Friday, September 30, 2005
Was talking to a friend about having blogging fatigue.. lack of stuff to write or wadever.. The reply came fast n easy... It is her way of writing down her thoughts n bits n pieces of things.. thats y its never tiring of lack of topic to write..
For me, i dun even know the purpose of my writing or even rambling here... Can these be classified as thoughts? or just a simple piece of work on how i spend my day blar blar blar..
Or does it even serves as a nice form of memory when i re-read some of the posts and recalled wad i was doing like 3 months ago?
Nowadays even writing online on a (Worldwide web) needs to be carefully structured.. U cant afford to insult any organisation or someone at the tip of ur pen.. U be sued... or even suspended.. (not that i go for that kind of writing)
Writing is a form of expression.. maybe we all should go back to our old style of dairies n pen our thoughts in a book..
ANd please make sure that no one recovers that book and use it against u.. or u be hold responsible for what u write. If it had been kept private.. n no one elses reads it and its not being circulated.. maybe u be spared..
NO matter wad when u just write stuff down n there is no dissemination of it around.. It be a totally different case.. no sedition laws can bring u down nor deframation or wadever..It would only be your own private thoughts cos there is no circulation of it around..
For deframation or wadever, it canbe taken into account when more than three people knows n reads about it.. N the three person includes u urself the party involved and the other third party...
So wad am i trying to say....... Go back to ur old dairies if u ever wanna scold or insult anything... Nothing would be held against u...
WHen u are writing on a medium where people can easily access.... Its easier to get into trouble.... haha
With Greater power comes greater Responsibilities..
So its better to watch out... n be careful with the words when writing online..
Hmm... so wad am i writing now? Is this a general piece of advice or my thoughts or wad..... hmm.......
unlocked @ Friday, September 30, 2005
Tuesday, September 27, 2005
Suprising for this midterm, i do not have lots of tests to do..
cos its either i finished it before the break starts or its just project.
Besides there is only 2 midterms test, n both are open booked.. whahaa..
Went ikea again today.. i been going to ikea often these few days to look around n scout for things to buy...
But the white wardrobe had runned out of stocks... i cannot understand why they cannot accept pre-order.. N this means i have to make another trip there to order it... Its so troublesome.. though the staff there is friendly. It could have been better if i can call to order or wadever... then i dont have to make another trip.
Talking about good service, the staff there did help me check the unloading date of the stock.. And reassure me that it be there by the end of the month.. friendly, nice but then it can be better if some changes can be done....
i hope by then i will be able to get my ikea friend card too.. ehehe... i have to wait.....
++++++++++++++
went to visit grandfather who is in the hospital during the term break..
He is just waiting for the last breath to be drawn away from him..
Nothing can be done to ease his pain..
Nothing can be done to make him feel better.....
Nothing.. sometimes i just wonder..
With all the medical advances thats happening in the world right now.. there is still a lot of things that we just cant achieve.
There is just this sense of helplessness no matter what.
+++++++++++++++++
Ending one of my tuition assignment soon, the gal is going to take her N level... Hope she gets good results.. N i be re- employed nxt year again.... Losing a big source of income..... A BIG one....
Just have mixed feelings about it..
I think i miss the lunch i have there....
I think i miss the income.....
Maybe i miss her also? I think she will miss me more..
Just prayed hard that she will do well.... haha then i proved my worth as a good tutor N for her she be able to do O level again n go into the poly courses she wants..
Meanwhile i wonder if i should take up new assignment..
++++++++++++++++++++++++++
Accompanied mel to the dentist the other day.. think its time for me to do my dental check... heehee
besides the dentist is quite chio.... lalalala.... if i were to have it checked i think i choose her over the dentist in my neighbourhood.
I really think that i am becoming a better person lately.... muuuahhhahhaha
muuuahhhahahah
unlocked @ Tuesday, September 27, 2005
Monday, September 19, 2005
I actually wanted to listen to webcast.... IN the end, i was so bored that i came to do this..
The celebration that we went to on sat... iwonder if its a bday celebration or mid autumn fesitval celebration..
Guess its more of the latter cos there is no bday cake... only mooncake n lanterns..
Some of the things we do there..
Learning piano... :
This is the grandmaster.. :
THe gals: watching tv programs..
The guys majong majong..
Enjoying the food:
then we went to carry lanterns.. walked arround...
This is how we looked like when we walked around the neighbourhood :
sort of scary.. luckily the seventh month is over.. haha
I think its better with flash..:
MOre pics on the past bday i attended over the weekend:
Some random pic of the party:
The cake.. :
the whole group of ex.. lib exco :
thats all folks..

Back to my sian lecture... :(
unlocked @ Monday, September 19, 2005
Wednesday, September 14, 2005
I been quite busy nowadays....
Attended two birthday parties...
Both are fun though
For the first bday party on last fri... it is actually at aloha loyang... been going to this place v often this year....
Spend a night there..... after the party end around 6 people stayed overnight....
We went to changi to see the ah gua there at around 3 plus am.... they are so man.....
then we went to look around for spooky places in the area... like red house, old changi hospital...
NOthing happened... luckily... haha din managed to see anything..
then we went to eat at geylang at around 4 plus am in the morning.... eat the dou jiang you tiao... nice...
its the first time i eat so early in the morning... normally supper is betw 12 plus to 2 plus...
slept at 530 am that day..
then at 10 in the morning... woke up n go home....
slept all the way to 4 pm... haha
Anway for sat, i had plans to go chinatown to get something oriental for another birthday party on sun.
so meet lu at 430 in chinatown.. i was late reached at around 5.. hehe
anyway din really managed to see anything satisfying.....
cant imagine my self in qi pao..... so funny....
then we went to look for alternative like du dou ( olden day chinese bra) anyway i find it too skimpy... haha
then we racked our brains to think out of the box... so we think of embroidory..... we find it oriental also... but then most of it is really too much for us to take...
finally i set on my eyes on a pair of pants which has a dragon.. but then its a freaking 50 bucks....
ANyway the sat evening was wasted.. din get anything oriental enough for the party...
ANd for sun...... its party again.....hhee
Due to the severe lack of sleep during the weekend.... i got a v v big pimple on my face.... one that is full of pus... totally disgusted by it.... until today it has not recovered....
just finished a midterm today... its good that its over.... busy with sch work on weekdays..
catching up on tut that i need to do.... printing notes..... n stuff.....
LIfe is busy...
Got another birthday party this sat..... I am definately looking forward to it... hehe llallala
unlocked @ Wednesday, September 14, 2005
Thursday, September 01, 2005
Little did we know that actually we spent most of our time in taipei city....
Plans of going around taiwan were disrupted because of typhoon......
On the first day of our arrival... we go to the airport service counter only to find out that the strongest typhoon taiwan is gg to ever meet is also arriving....
The estimate time is within the few days although the exact timing isyet to be confirmed...
Thus plans of going to alishan is to be on hold until it is safe to go there..
ANd we are going to do our taipei city tour....
This is the park we went to.. its near our hotel... There is a museum within... and a fountain?
not really sure how to describe it... so i just let the pictures do the telling....
This is how small the sign plate is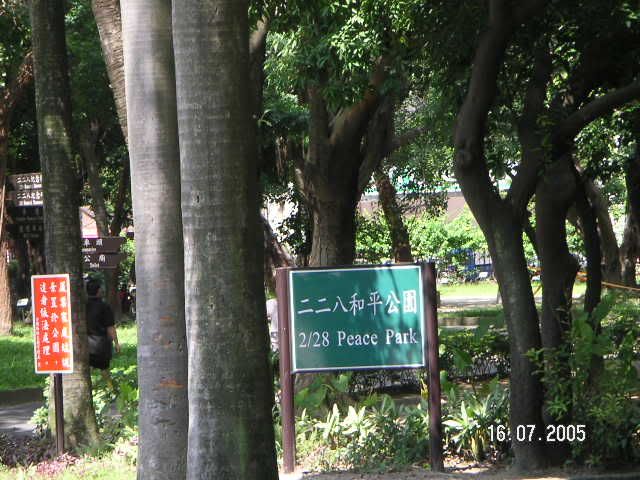 the park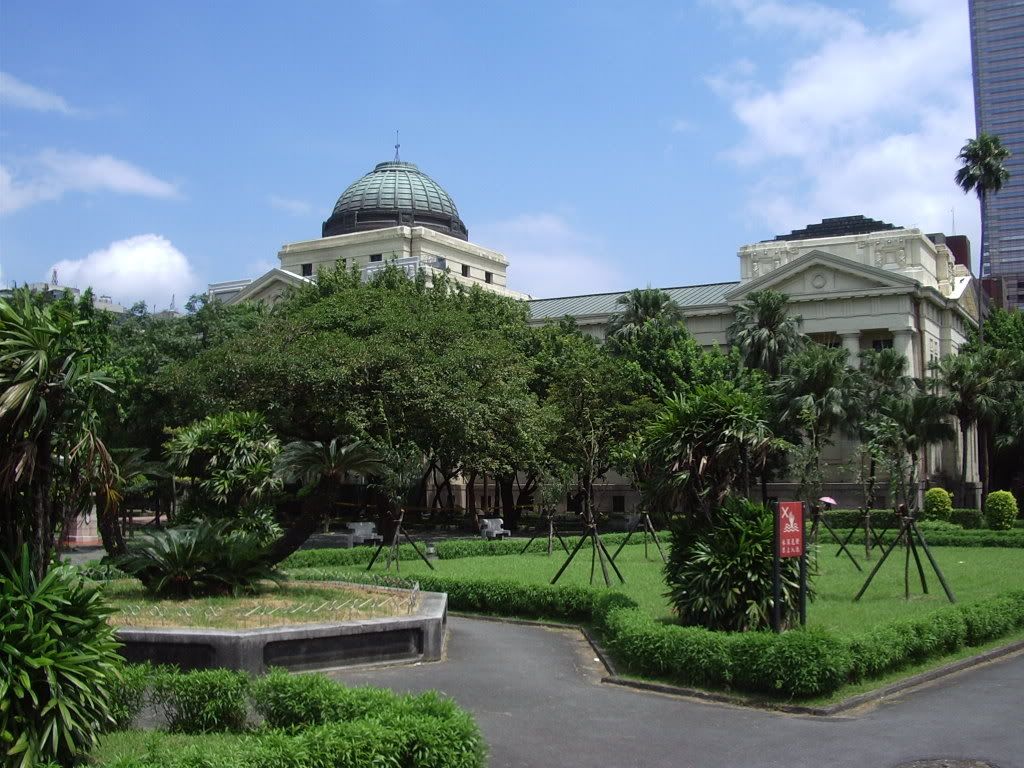 museum in the middle of the park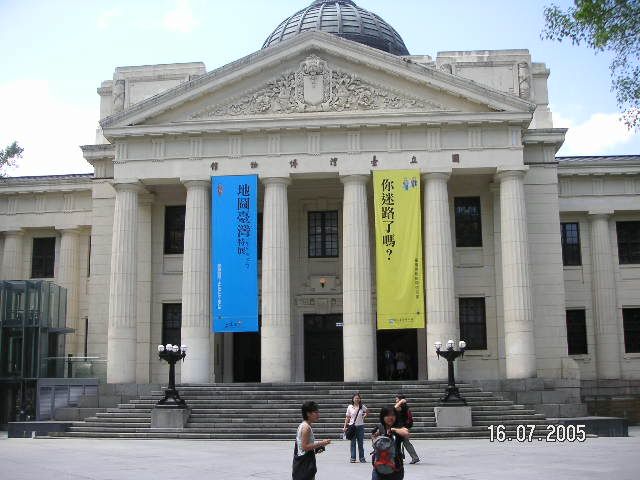 busy taking photos again
img src="
http://img.photobucket.com/albums/v601/hoppinhops/taiwan/Pict0032.jpg
" alt="Image hosted by Photobucket.com">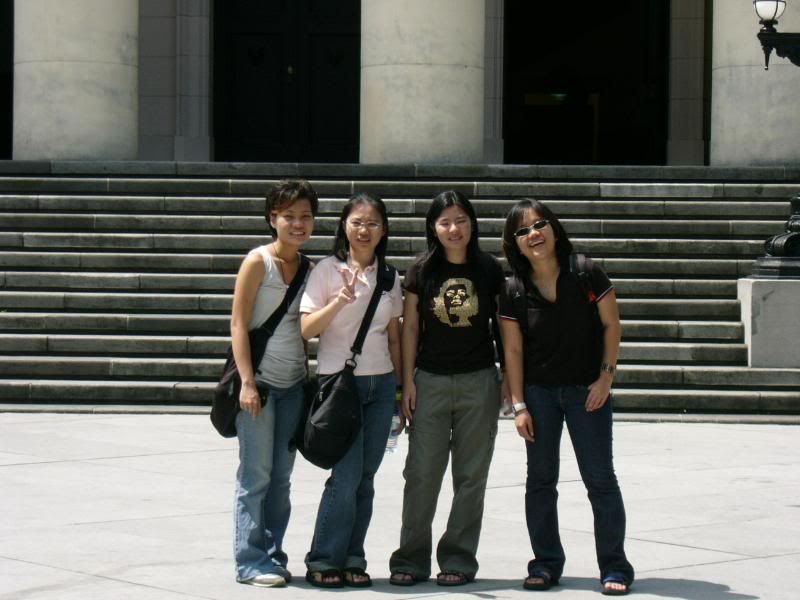 Do i really look like a guy?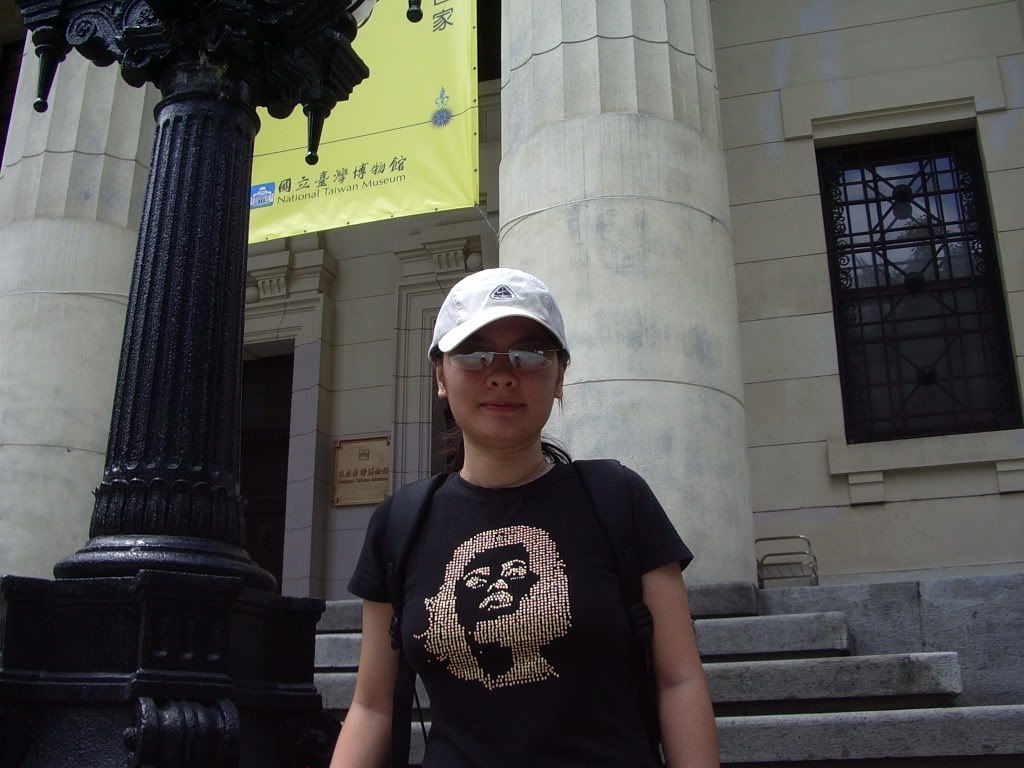 then the fountain dedicated to those who involved in the 228 incident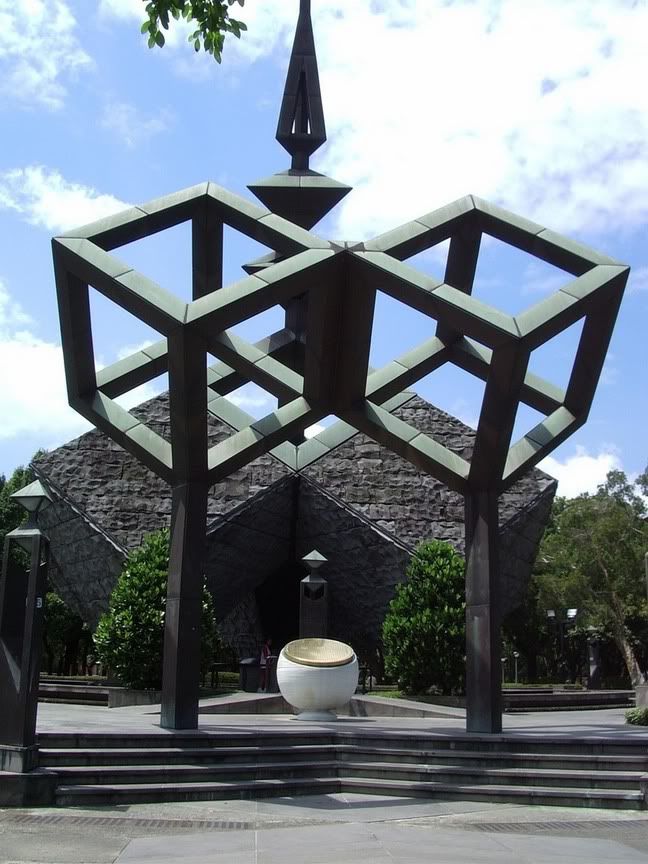 taking photo again with the "sign"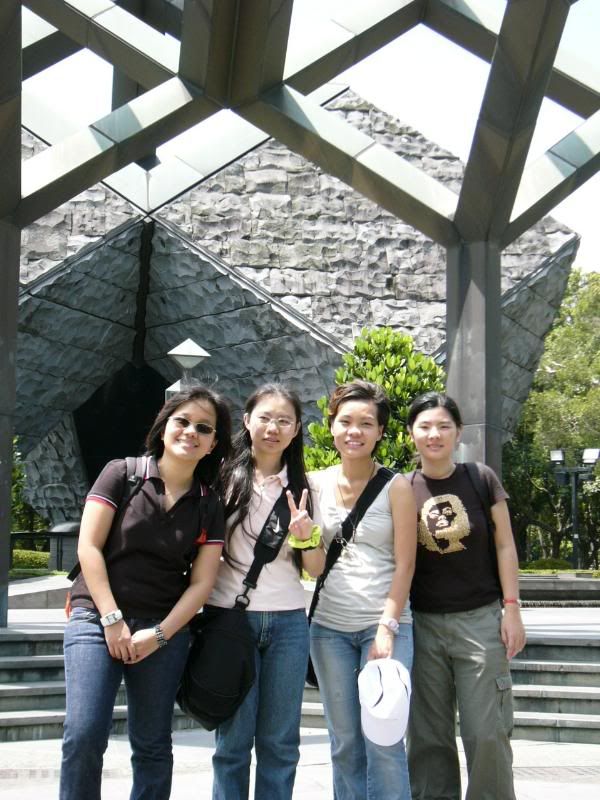 this a pavillion found inside the park... not really sure wad is it for
but then one of the figurine there is Zheng He the one who travelled across continents in his ship... heehe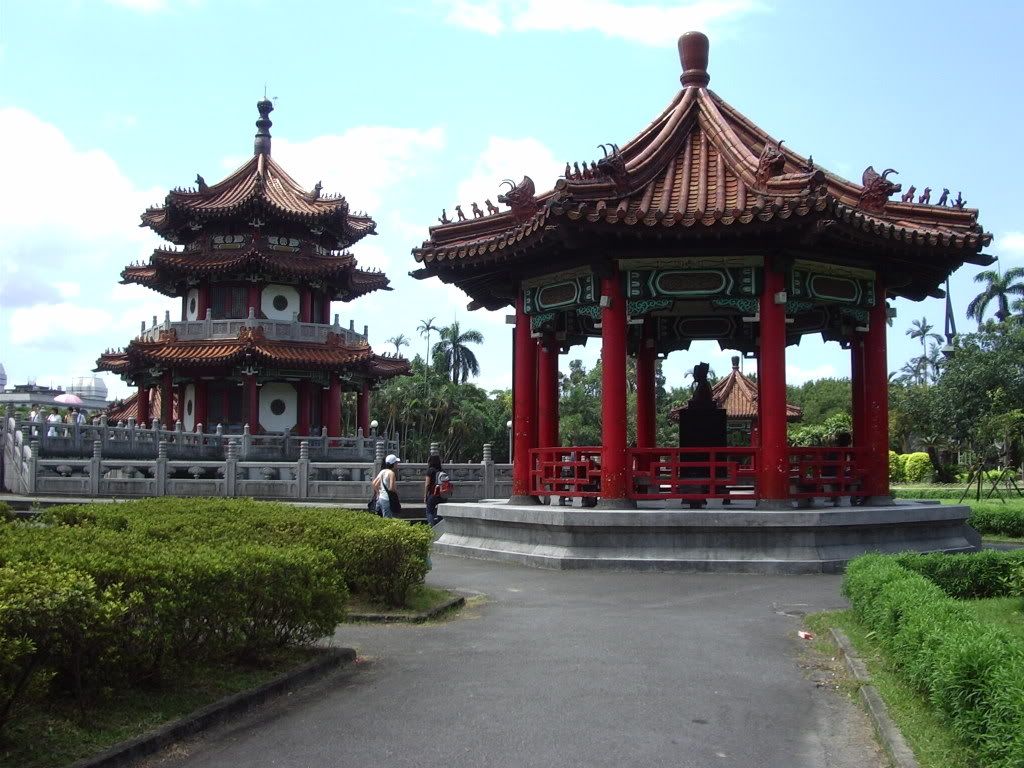 After that we proceed on with taking the subway to guo fu ji nian tang
this is the street we crossed before we reached the place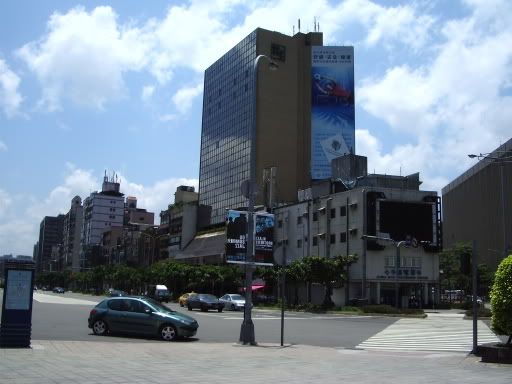 finally can see the side view
Tada..... the front view... its just magnificant...
This is where the body lies.... inside this building.. we have to climb the flight of stairs.....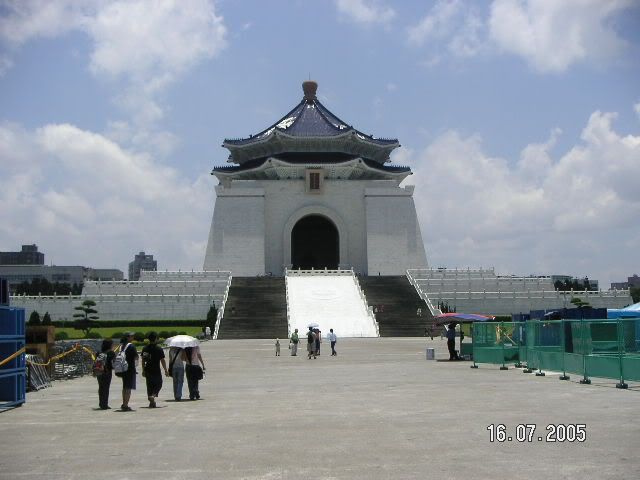 almost reaching the top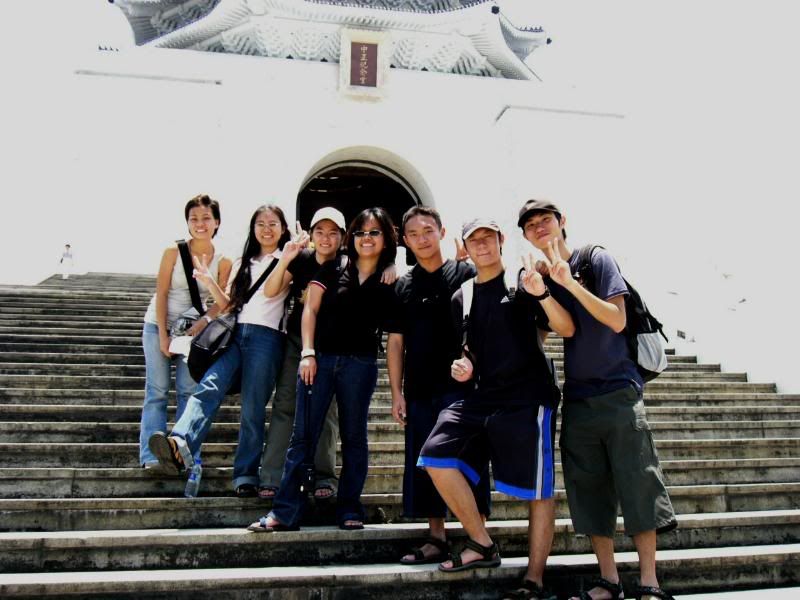 scene from above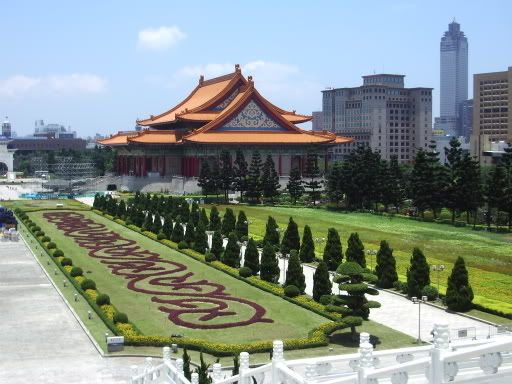 the figurine that greeted us..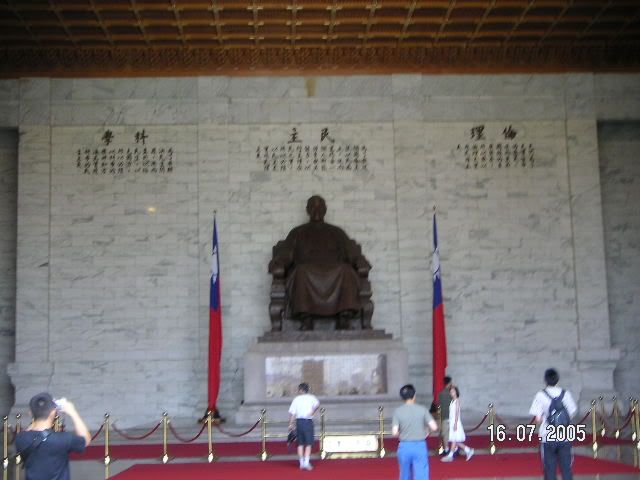 then we happen to see the ceremony of changing guards. .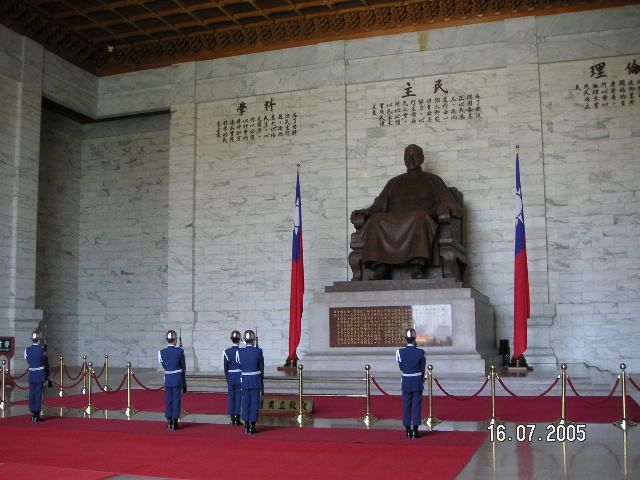 Its quite a long process..... n its not v interesting anyway....... bored......
some exhibits inside
the car he used to be chauffered around...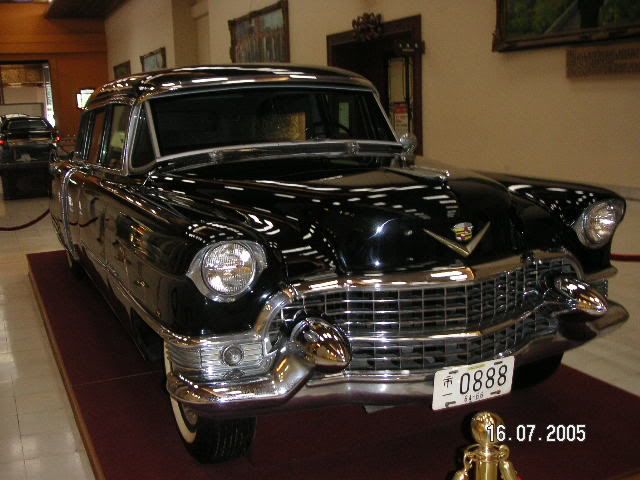 N there is a lot of other stuff.....
paintings etc....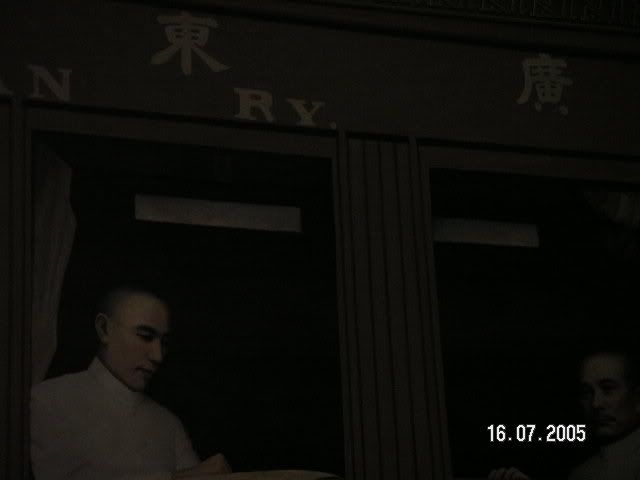 Its quite a big place..... we actually got lost inside..... all of us are divided into groups.. N we cant find each other.....
luckily eventually we manage to get back again..
We left the place....... weather was so hot that we decided to go to the 7-11 nearby....
N we had these...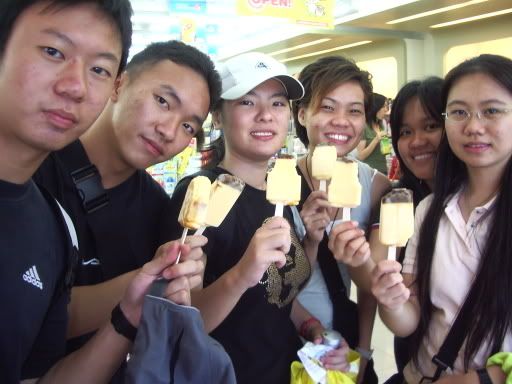 trying to finish our ice cream as the rest waited.... taking another short break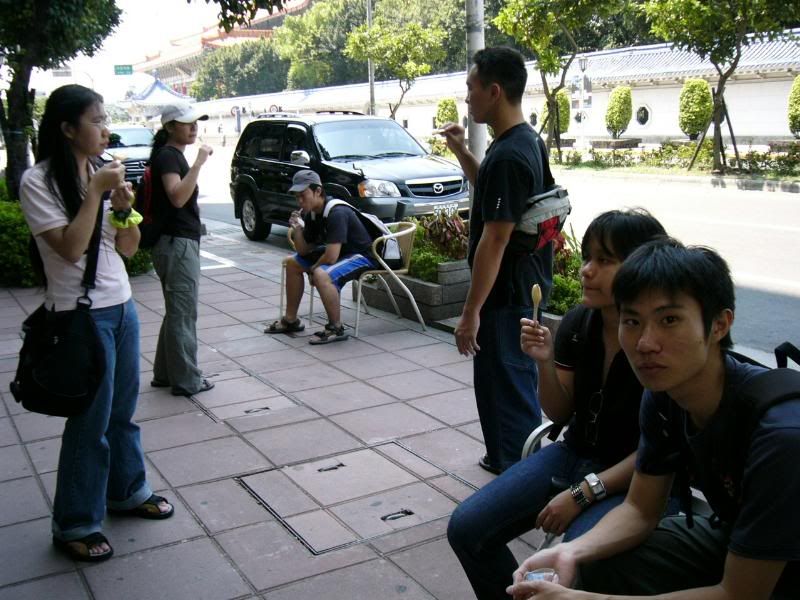 We reached the subway eventually.....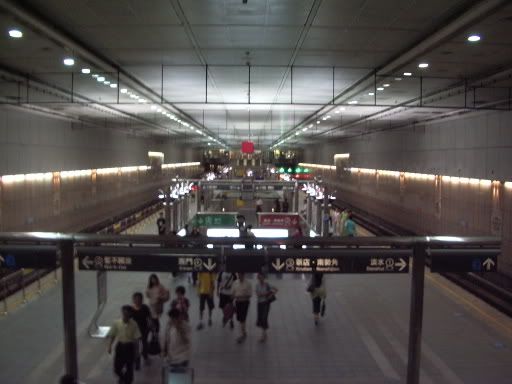 Taking a rest again.. so hot n tired........
we dun really care how we going to be looking like......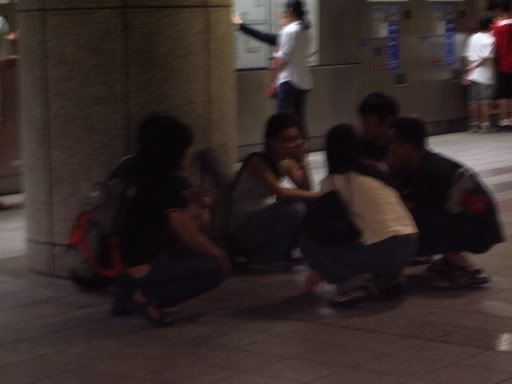 to be continued........
unlocked @ Thursday, September 01, 2005