Thursday, August 25, 2005
I think i upload the photos slowly n do it in series..... been trying to arrange the photos...... so i upload the pics up separately..... hehee ( so i can do at my own pace) lala
Note:
It may be a few days or weeks before i do the next series of uploading..... so pls do not rush me into producing the pictures......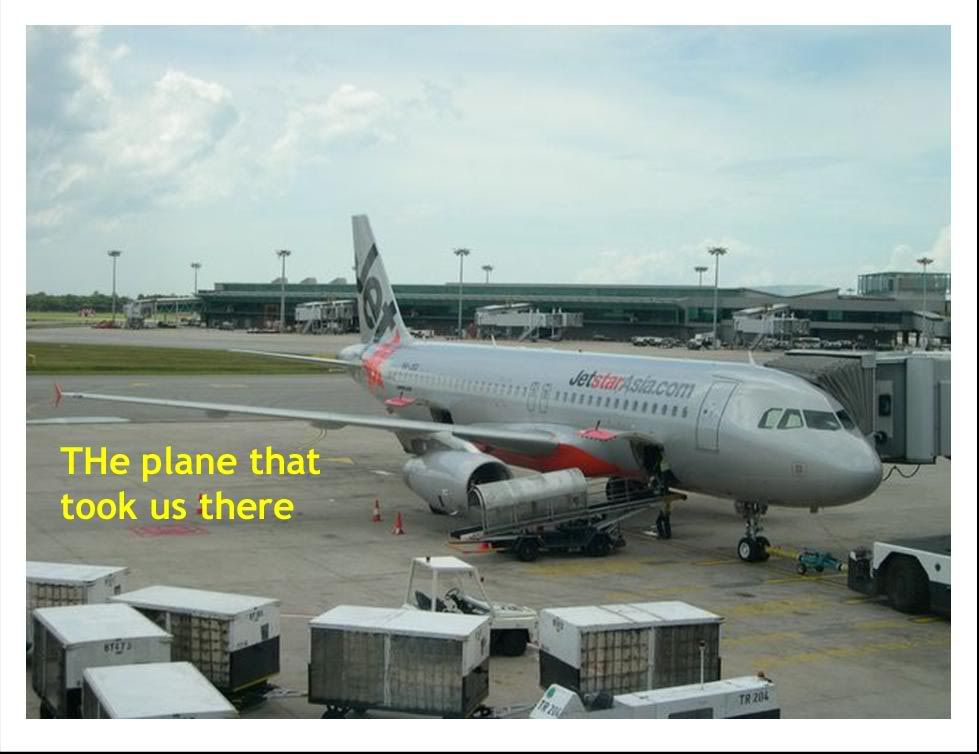 It is already evening by the time we reached taipei....... very hungry but energised

This is the first place we visit to find food for our dinner.......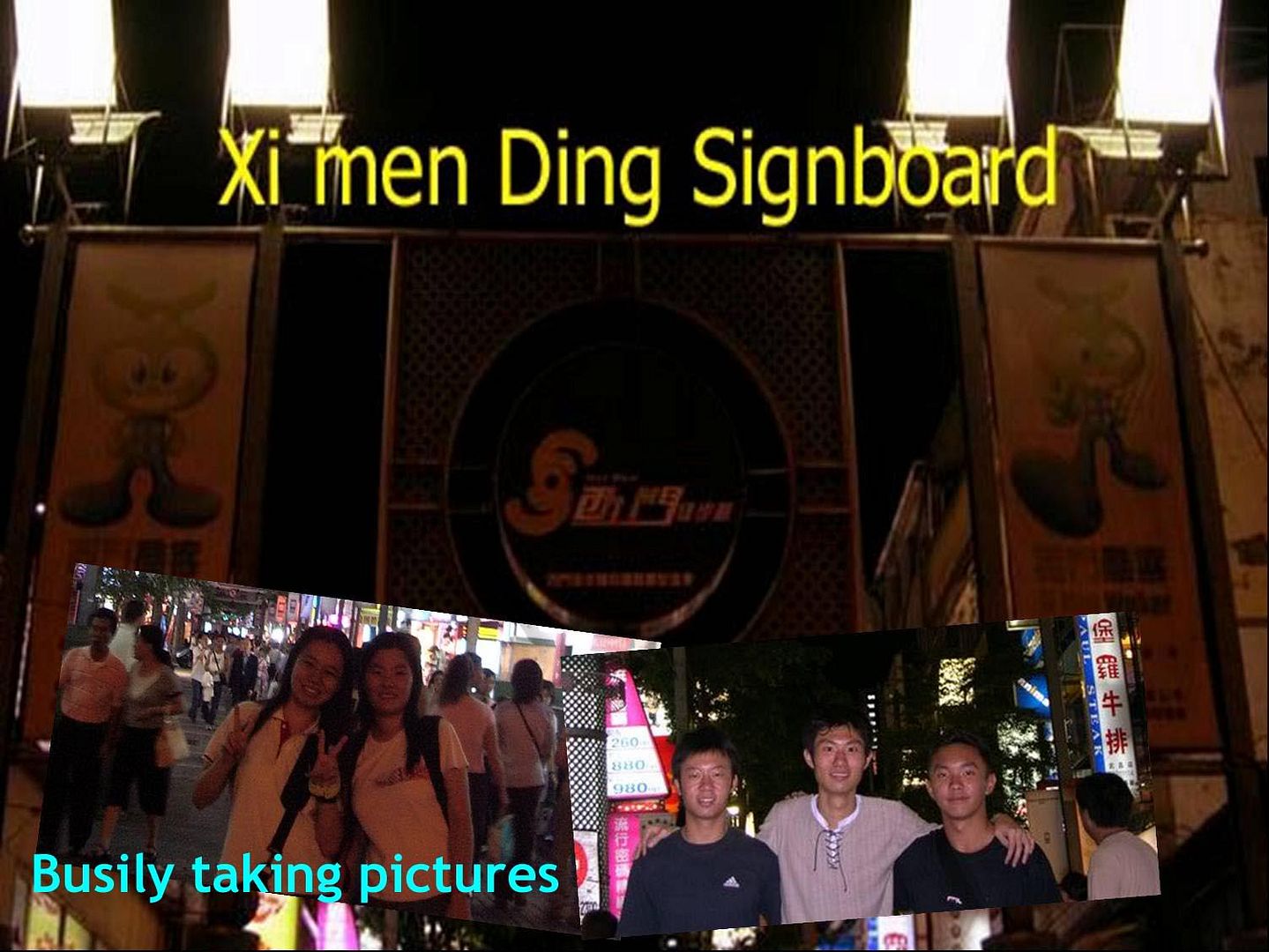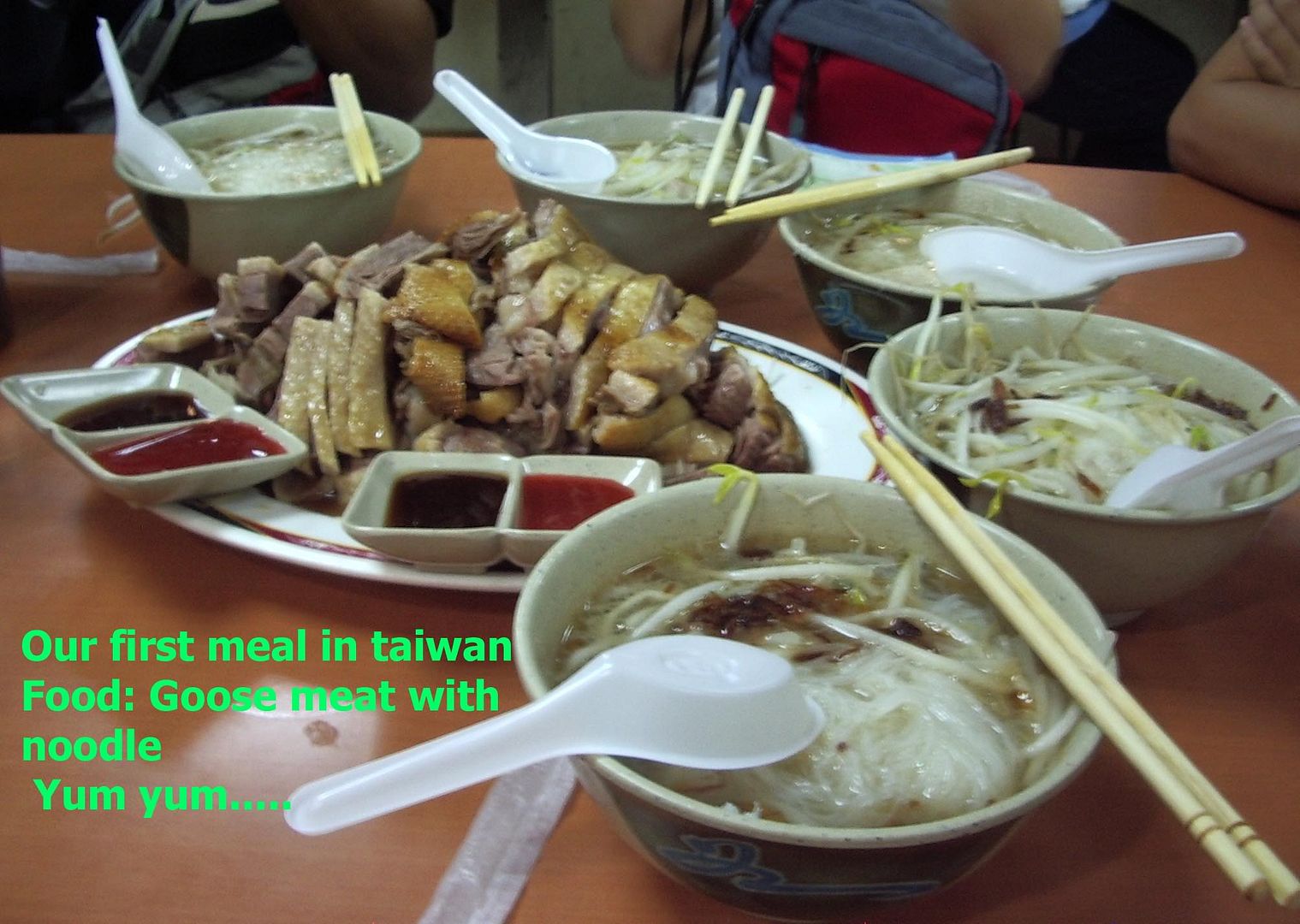 N this is the shop where we find the dellicious goose meat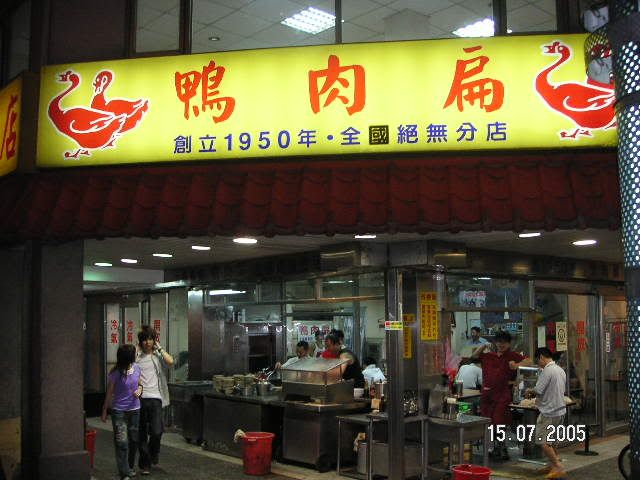 after our dinner we proceed on to explore xi men ding..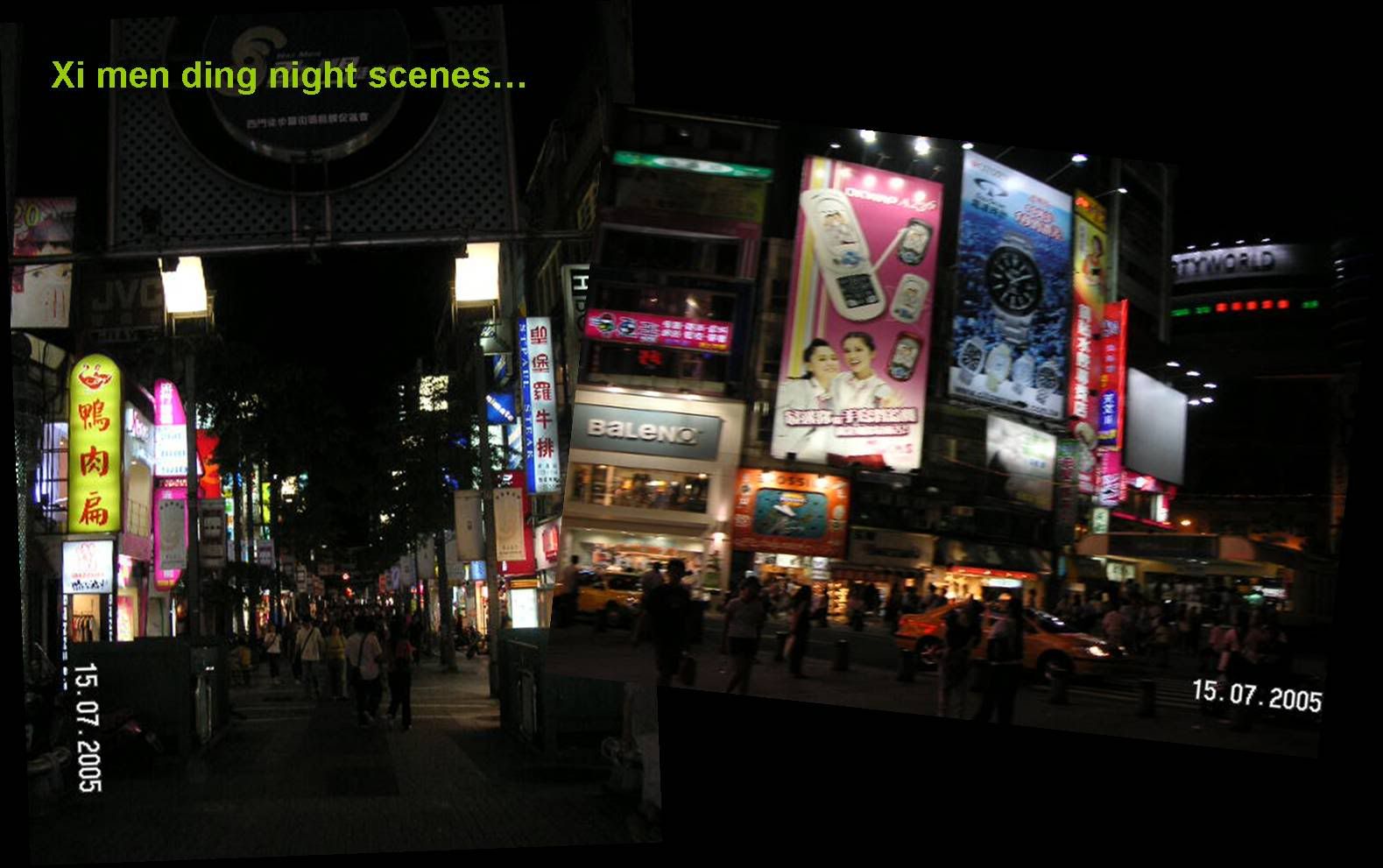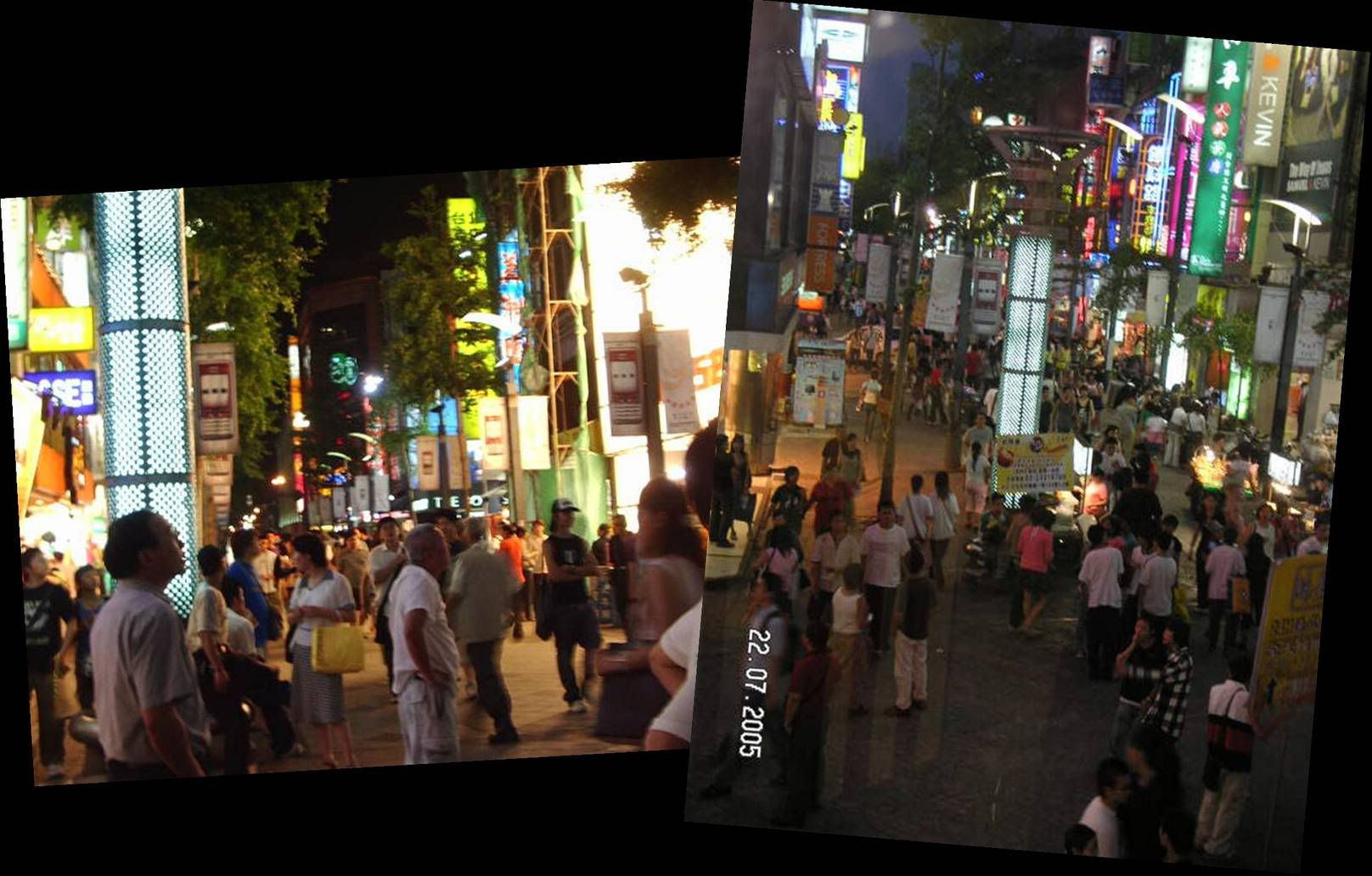 And finally.... pls take a look at the photo below.....
did u noticed any differences?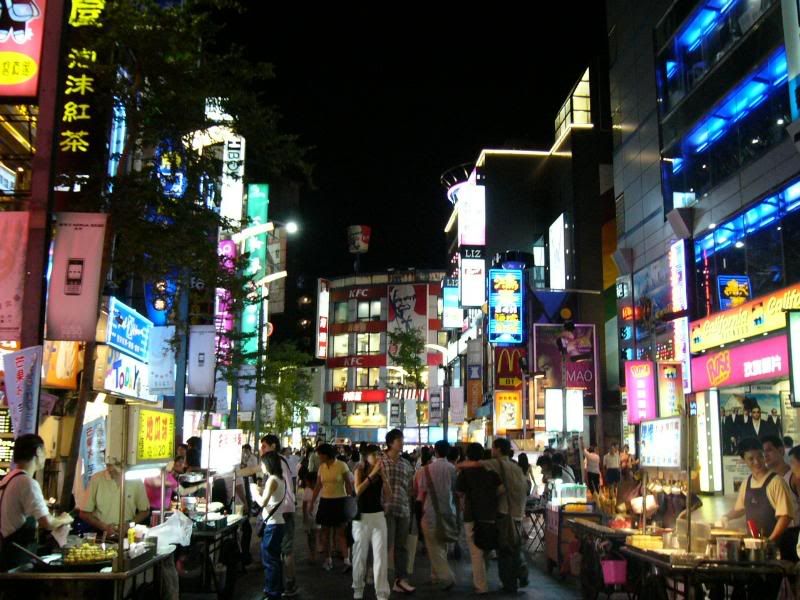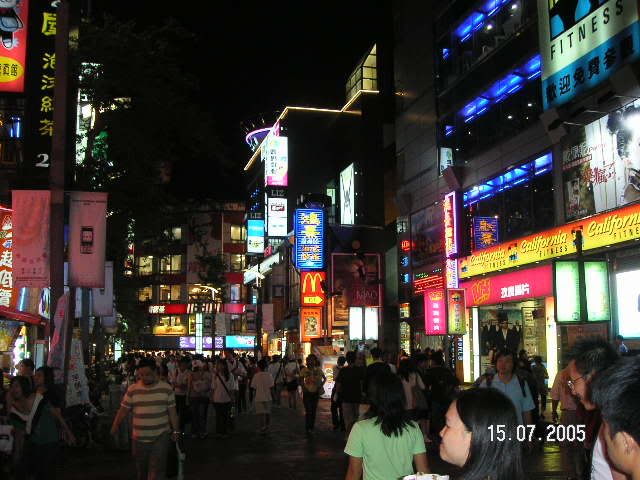 These two pictures depicts the same place....... before n after the police came......
the hawkers there do not have license...... therefore to a certain extent.. they are the illegal vendors........ so when the police came..... they ran off with their stalls......
and after the police left.... there they are back again for business....... wad a interesting way to make a living.....
Anyway i had a discussion with a friend over this scene.... both of us hold different views on this kind of street scene....
She feels that there is no orderliness......n at the same time she felt that this kind of illegal hawkers should be gotten rid of cos they will affect the image of the city....
On the other hand.... i felt the exactly the opposite.. this is a way of living n life or even culture of the place..... even though it may be messy at times where those street hawkers just parked themselves anywhere.... i thought this is quite interesting...... These people can find their own living space in the big city n they do enjoyed a great degree of freedom in wadever they do.....
later i found out from my mum that singapore bugis area used to be like that filled with illegal hawkers... they are gone now.... Maybe its for the better..... maybe.....

Ps: pls tell me whether the pictures look normal or not as in if it align with the border. Whether they are oversized or undersized....
unlocked @ Thursday, August 25, 2005
Monday, August 22, 2005
I dun think i could really post up my fotos... its been a week ya.... i am lazy.......
No i am not... busy with printing notes?? dun think so....
I am now dabbing in stocks market.. spent most of my free time seeing which share better to buy... which not to.....
check this check that...... I am not in mood for posting photos.... then i really wanna be a geek this sem... keep up with readings n stuff......
I have been saying that since my first year... hahaha... i did improve by a little each sem... but its still not enough.... haha
then wad am i doing??? i dunno..... days just pass by fast when sch starts i dunno wad i do eaach day.. hehe
Its only these few days that i played the shares... its an online competition.....
Wad else did i do this weekend??
I spent the whole sunday night listening to the PM national day rally speech...
Not v inspiring though the picture he try to paint is beautiful.....
And after listening to his speech... there is a few points i wanna raise....
( I am concerned about our states affair.... c wad a nice young adult i am Heh.... )
1) There is great plans for people studying in poly n even ite....
It is real good to see that.... but then it somehow make me feel that i should have gone to poly to learn some practical skills instead of going jc...... Then i be endowned with skills n not just practical theory? AM i right to say that....
I felt loss
2) The loud promotion of improving our poly education so as to raise it worldclass standard...
Then i began to wonder about our university... Is it really world class that we do not even need to seek further improvement to it.... N i actually have to experience the inefficient of the cors system.... yucks
then wads worst is that i felt that studying in poly would make sure that i have a better future than in university....
AM i not confident enough or proud enough as a undergrad?
Do i really underestimate the position?
How come like that...... haizzzzzz.... should not have listened to the speech...... damn......
I think should have worked harder to post photos up instead
I just felt alienated......
unlocked @ Monday, August 22, 2005
Saturday, August 13, 2005
I hope i can get most of the pics ready for posting asap.... working on them now...
Picking up photoshop skill is certainly challenging....
I spend one whole afternoon combining the photos together.... used up so much time.... just to complete one nice pic....
Its another attempt to practise while i have the time to do such stuff...
ANyway Y the newspapers must explain so much about the other presidential candidate not being able to qualify for the cert?
Nvm..... just that i wun get the chance to vote.... at first i was quite excited at the idea of being able to cast a vote on the election of the president......
Boooo....... no fun no fun....... Is there another general election coming soon? I want to vote... vote vote..... yeah....
ps. i just found out that nus coop does not necessary sell the cheapest price for books in town, sometimes clementi book store at the clementi interchange can be another good option. I found cheaper books there.....
N pls.... Stop using amazon. com to compare the prices of the books u are selling... u stupid coop ppl..... Come on use ur brains....
unlocked @ Saturday, August 13, 2005
sunset last look of taiwan

unlocked @ Saturday, August 13, 2005
Saturday, August 06, 2005
I got almost the modules i wanted.......
But then School is starting... boring boring......
One of my modules have only got 30 ppl another got around 17?
HOw am i gg to survive through....... haizzzz.........
NO mood to post fotos... NO MOOD!!!!!!
It only makes me wanna go for another holiday.......
LIfe is boring... sch is starting..... i am going to turn into a geek..........
I am going to mug mug mug...... yeeeeeekkkkkk
unlocked @ Saturday, August 06, 2005
Monday, August 01, 2005
I am really amazed at the things i found when i searched the web......
too many surprises......
I find ppl's blog.... discovers secrets........ omg........
too much.... think its not so good to be too open in one's blog nowadays... better to be more discreet in writing....
Anyway there are some good news on the papers today.....
YEah !!!
Smoking is gonna be banned in coffeesshops n hawker centres.... YEah!!!!!!!!!!!
ANd soon 2007 pubs n clubs would be included....
Lallala
no worries nxt time about coming back to smell like being soaked in smoke...
It really sux big time to smell like a walking cigerette..
then i have to wash and scrub myself mad when i take my bath to rid myself of the smell....
And i be spared from the harmful second hand smoking when i eat at the coffee shops. nice nice...
Still working hard at uploadin the photos onto the blog... there is too much until i dunno which to select to show... haha
unlocked @ Monday, August 01, 2005