Sunday, June 26, 2005
After a tiring week.. finally managed to get some time out to do my updating..
This is my first bday cake....
Thanks to the serangoon prata gang... u know who u are!
hahahaa
The cake of the year! Is it nice??!?!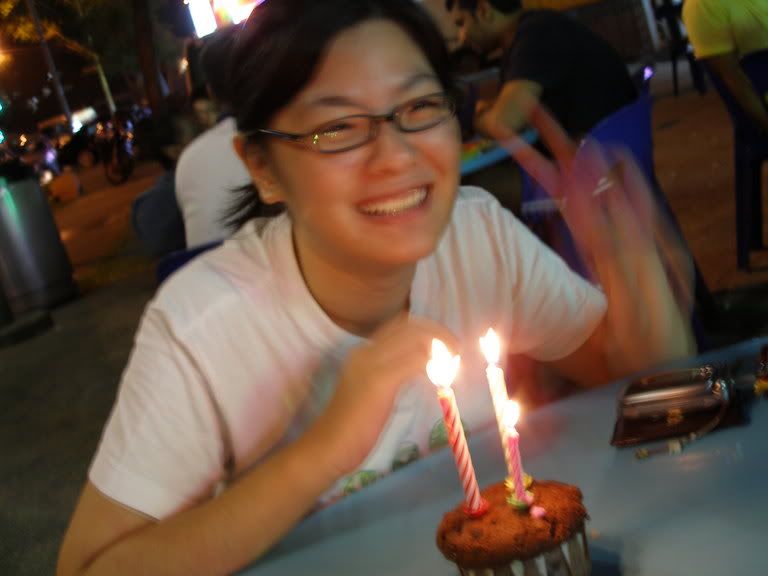 Me with my infamous black specs...
Really tired on that day.. but manage to meet up with u all... hehee...
Then for the celebration
Happy! me and mel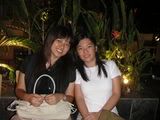 the second bday cake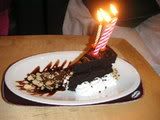 Looking contented!?!?!?!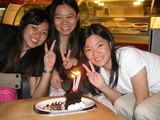 Making wishes....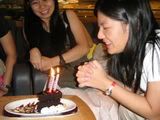 For the presents...
so many boxes.... never ending.........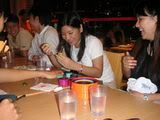 wow...... will it topple?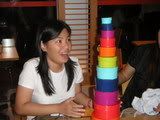 Wad am i going to do with all these?!?!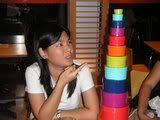 Then.... next....
wad in for me?!?! hmmm.....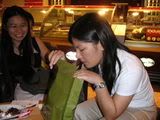 ah..... thats it.....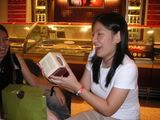 there let u see....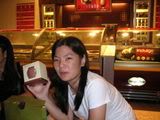 handling ceremony of the prize...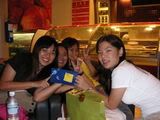 Heheheheee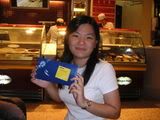 flaunting the vouchers?!!?! hheeheh so many one two three four.....
The gals n me....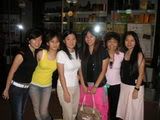 Flower amongst the thorns.. (privellege haha)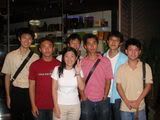 The whole group ---- the best class..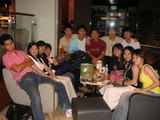 ANd an enjoyable day out with my friends...... Thank you!
sorry if the phooto is too small and the resolution is poor.... haven been posing up photos for quite a while..
unlocked @ Sunday, June 26, 2005
Thursday, June 16, 2005
I have no time to come online...
I Have 260 unread mails in yahoo...
35 unread in hotmail...
so many many things to do...
Wonder how come i am busier in holidays than schooling..
Falling sick again due to tiredness i guess, having slight fever again
How i wish i have more time.. how i wish i have a stronger body which can last with little sleep..
will be back with pics from my bday...
hehe
just got them i think i have forgetten how to upload them
unlocked @ Thursday, June 16, 2005
Thursday, June 09, 2005
I do not have a birthday chalet
I did not invite anyone to the dinner
I never send out any sms to inform ppl
I never planned any proper things for my bdae celebration
I did not manage to get the reservation for Rice table
I did not treat everyone
I did not do my part well enough....
But where on earth did i found u guys..
All i can say is that
I DID get to know friends who are the best..
Thanks for everything
Everything even though it is only a slice of cake... ahahahha
even though we dine and waited long at thai express
even though i have to open dozens of boxes to find the ear ring...
I Have had a pleasant day yesterday...
Big thanks and hugs to those who contributed much to the planning especially fei and mel
To the people who turned up..
To All those who spend the day with me.
To all the well wishers who wished me Happy Birthday
ANd to Shuyin and louisa and friends....
Thank you!
------------------------------------------
Suddenly i feel that i do not really deserved all these...
Thank all of you so much!
unlocked @ Thursday, June 09, 2005
Monday, June 06, 2005
Its coming in a few hours time....
but i am dead tired now.... dead dead tired....
Happy Birthday to Me!
Going out for prate even though i am tired.... realli dun understand myself sometimes.
Y?
I cant think....
ANd for all of ur information, i think my mp3 earphone is a bit cranky... one side is not really working well..
can get me earphones also... haha
unlocked @ Monday, June 06, 2005
Sunday, June 05, 2005
Its been a long time since the last entry and again... i dun know wad am i doing these days...
maybe i can put it as busy earning money.... hahaha....
tryin hard not to get myself unemployed.... heard news that temp can get retrenched....
wad kind of world is this whole thing coming to.... omg omg.....
*panick* and starts to worry for own future...
ANywaY bdae coming and NO FORMAL Celebration would be held... gonna meet up with a few friends and make it a quiet event.....
THen no wish list would be posted... I dun even know wad i want actually....
FOr your info... and to make things easier i decided to list a few options le...
FIrst, i be moving soon.... so... if u want to contribute something can think in that direction..
then i be going to the great singapore sale to get some fair amount of decent clothes...
( does this helps?)
of cos i wun mind expensive technology gadgets like digital camera ( canon Ixus ).. hahah
(Dun think i dare to accept such an ex gift.. will get it myself in future)
Last but not least cash is appreciated at all times if u lack of ideas.... hehe
Can i pass this off as my mini wishlist? there is quite a lot of things that i cant think of right now..... tired and shagged......
unlocked @ Sunday, June 05, 2005